Donate
Should you ever be faced with the sorrowful reality of child loss, where would you prefer to bury your child?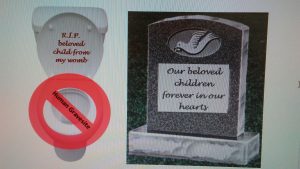 Financing memorial gravesites in cities across the continental United States (and perhaps in other global regions in the future) will cost hundreds of thousands of dollars. This vision won't get accomplished without the generous support of individuals like you.
Charitable Donation
Miscarriage Moms For Life has received an IRS determination letter approving us as a 501(c)(3) charity, retroactive to January 2, 2019. We are a religious corporation, founding our ministry upon our beliefs in God, the Giver of life, and we seek donations as such. Your tax-deductible donations* help us cover direct ministry (estimated** $21,000 per memorial and 3 events) and ministry overhead (estimated $1,000 per month for technology, bureaucracy, and other expenses). Please include your email address at the time of your donation to receive a tax-deductible receipt.
We want to hold many events in many communities***, as many communities are impacted by unrecognized miscarriage (or other pregnancy) losses and/or abortion. We believe operating this ministry without incurring debt is better stewardship, so the only things which may prevent us from holding an event in your community are governmental restrictions, time, and insufficient donations.
But you CAN help with your prayer support and with donations. While monetary donations help us prioritize our budget expenditures, donations need not necessarily be just monetary. Donations can also be a suitable cemetery plot, a grave marker, an event facility room, meals/snacks for the event, event materials, opening your home to the presenter, plane tickets, rental car, your time, etc.
***A community may be one large neighborhood, a city, a county, several neighboring counties, etc. Impact factors (like how many families in an area were not able to bury their babies), geographical factors (like the commute required of the beneficiaries), financial factors (like the number of beneficiaries who can help offset the cost of the memorial), and other factors will help determine what should be considered a community.
**Event cost estimates are provided. Actual costs may vary as the cost of living varies from state to state, and even from city to city within the states. Overages in one area will help fund shortages in another area so the ministry is spread.
*This is not intended to be made in states or other regions where prohibited/restricted by law. If donations are inadvertently received from those areas where prohibited/restricted, we will make a good faith effort to either return/refund the donation or comply with restrictions. [For example, we do not want to receive just one $10.00 donation from a region or state that requires fees of $1,000.00, as that would be poor stewardship.] However, it is our understanding that this is not prohibited/restricted by law in most states within the United States.
Ways to Donate
[If you're not a fan of making online contributions, please contact us for other options.]
Miscarriage Moms For Life is set up to receive donations online through GoFundMe and PayPal. Please keep in mind that these payment acceptance services reduce the amount that you donate to collect their processing fees. Here's a sample chart for you to consider whether you would like to cover the processing fees as well.
Donation Fees and Net Available Funds
Donated Amt Processing Fees Net Received
25.00 1.03 23.97
75.00 2.48 72.52
150.00 4.65 145.35
26.06 1.06 25.00
77.55 2.55 75.00
154.79 4.79 150.00