Love: Internment
Gravesite Memorial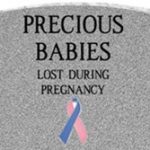 Rizpah's heart: the dignity of remembrance in funeral ritual.
Miscarried Moms For Life seeks to provide our babies with the same type of dignity and respect that other deceased older humans receive—a recognition of life and a memorial (preferably at a gravesite). Call this Rizpah's heart. In II Samuel 21, we read about the great lengths Rizpah went to in order to protect the bodies of her two sons until they were given a burial. Verse 10 reads, "And Rizpah the daughter of Aiah took sackcloth, and spread it for her upon the rock, from the beginning of harvest until water dropped upon them out of heaven, and suffered neither the birds of the air to rest on them by day, nor the beasts of the field by night." For months, she guarded the bodies of her sons until word got around to King David about her heart, and he had their bodies buried.
Validation (not minimization) facilitates the grieving process.
A side note for medical professionals, family, or friends: Please do not refer to our dead children to our faces as dead tissue, medical waste, products of conception, or as anything less than our dead children. You may think you are lessening our grief by attempting to minimize the significance of our loss, but…
Learn more about the impact of this at our

Seminar.
How would you choose to bury your child?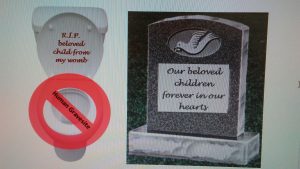 Sharing resources—coming together in our common grief.
Miscarried Moms For Life realizes providing each miscarried or stillborn child without a body available for burial with their own gravesite memorial plot would be cost-prohibitive; however, pooling resources to acquire shared memorial spaces is feasible, with adequate support. Over time, with the help of many generous supporters, we can place memorial sites in many cities in each of the 48 continental states (and perhaps further) where families can gather and memorialize their beloved baby in a way similar to having closure in the burial of our adult loved ones.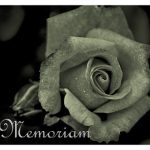 Shared, yet individualized.
We are still in the process of fleshing out the details as to what the sites would look like and how they would function. At a minimum, there will be a marker indicating the nature of the memorial. As part of the memorial process, parents will be able to personalize (paint) a rock to memorialize their baby. Along with this, we hope to allow participants a chance to purchase a name plate for their child to be placed at the memorial. Many of us—for whatever reason—do not have a body to actually place in a grave, but we can memorialize our children with a rock for a celebration of life and an optional name plate for the memorial.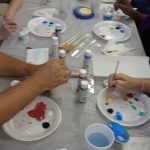 Attend a Miscarriage Moms For Life

Seminar

for more on this topic and to memorialize your baby.